Consider this number for a moment. Shortly after the COVID-19 pandemic broke in 2020, it increased internet use by 70%. It?s no wonder that, as of January 2021, there were about 4.66 billion active internet users globally. As a result, more consumers worked online, shopped online, and consumed entertainment online.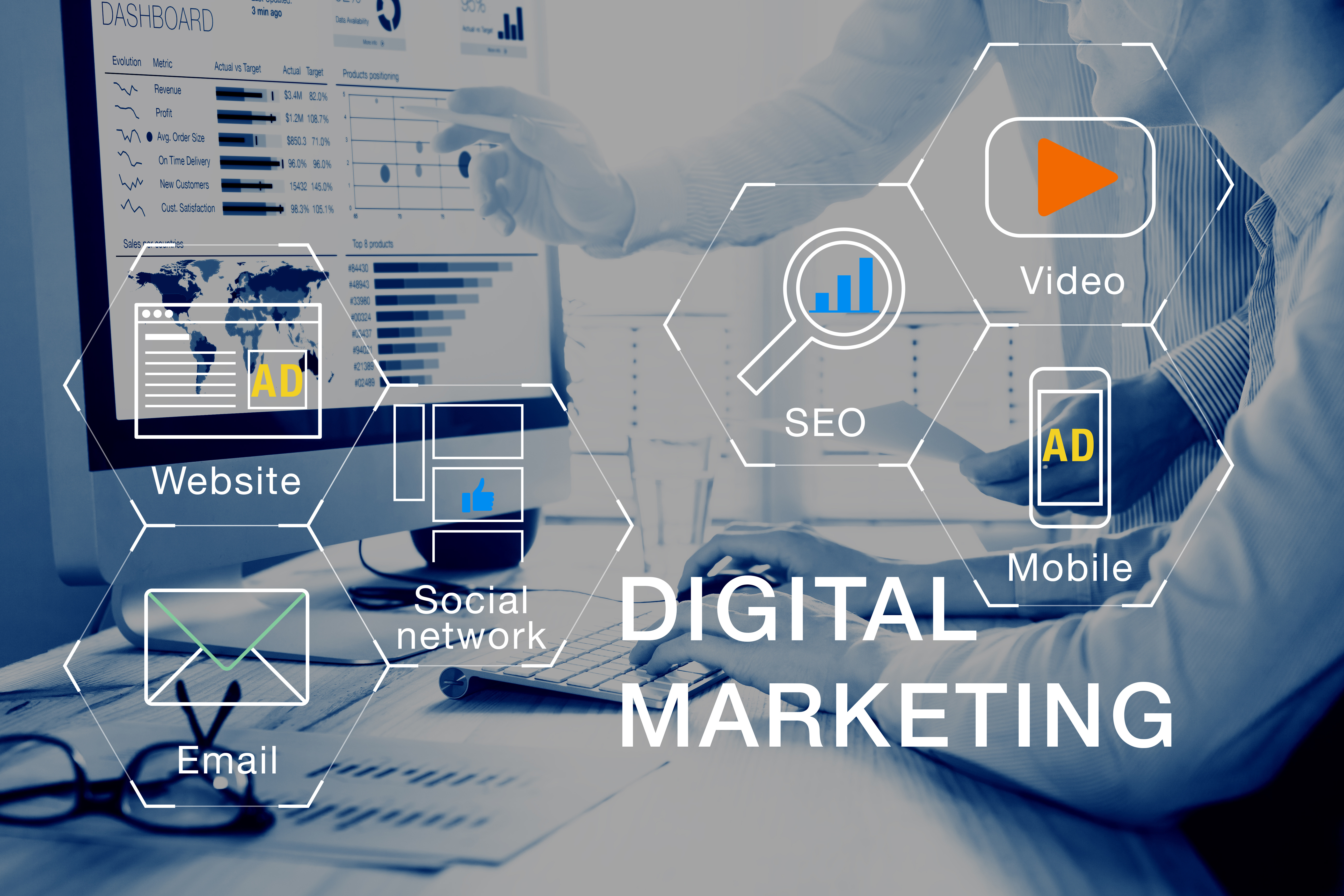 In turn, many businesses accelerated their digital transformation efforts because of the pandemic, with the result that many are now marketing and selling their products and services online. As a result, there has been substantial digital marketing growth and it?s understandable that digital channels now make up over 70% of marketing budgets globally.
The shift to digital also had some other effects. It resulted in more competition with increasing demands on marketers to stay relevant and regular with their campaigns. So, digital marketing teams are working harder than ever. Yet, despite this, marketing budgets are plummeting.
Ultimately, this means marketers are facing increased workloads while, often at the same time, having to contend with lower marketing budgets and in many cases the same size marketing team. Now, the immediate question is how they?re able to do this. The answer is simply by being more efficient. And for this, it?s vital that biggest brands have the right tools that will enable them to be more efficient and productive.
That?s where Admation comes in. Its online approval platform has been specifically designed with digital marketing teams in mind and gives them the tools they need to be successful. Here, we?ll look at how Admation can help you manage and deliver your projects in more detail.
The Challenges Digital Marketers Face
Before looking at these features in more detail, though, it?s important to first consider some of the challenges digital marketers face. These include:
Evolving customer expectations

. As mentioned earlier, consumer expectations have evolved and, as such, they now expect a more customer-centric marketing approach. As a result, marketing strategies that incorporate more personalization and cater to the needs and expectations of consumers are the key to success. This isn?t always easy as these expectations are in constant flux.



More engaging content

. It?s simple, the more content there is, the smaller the window of opportunity to grab consumers? attention. As a result, engaging content is becoming increasingly important and marketers are challenged to constantly find new and exciting ideas to reach their audience.



Privacy regulations

. In recent years, privacy has become an important concern and, as a result, various pieces of legislation and regulations now determine how marketers can obtain consumers? personal information and how they use it. Here, marketers need to keep up with this continuously evolving legislative and regulatory landscape.



The shift to mobile

. Apart from the fact that more people use the internet than ever before, there?s also been a massive shift to mobile. In fact, over half of all web traffic comes from mobile devices and consumers

spend about 70% of their time on the internet on mobile devices. Because of this, digital marketers now need to ensure that their messaging and campaigns are optimized for mobile.



Omnichannel approaches

. The rise of omnichannel approaches has driven the increased need to ensure that all messaging and content, no matter what the device or channel stays consistent. This, in turn, leads to more work for digital marketers.
Considering the above challenges, it?s easy to see why, as stated earlier, you need to be as efficient and productive as possible. A vital tool in achieving this is having a streamlined review and approval workflow. So, let?s look at how Admation?s digital marketing software helps you streamline your team?s workflow.
Planning: Briefs
At the foundation of an effective workflow that can help you manage digital marketing projects better, lies the project brief. It?s from here that you?ll take all the information and devise a strategy to make your client?s ideas a reality. As a result, once you?ve got the requirements from all the relevant stakeholders, it?s time to put together a clear and succinct Creative Strategy brief.
Fortunately, Admation?s digital marketing software makes this simpler. Its custom online marketing strategy briefs are for your business and are equipped with a range of features including:
Default Notes

. When last did you have an excellent idea but a few hours, or even minutes later, you simply can?t remember what it is? It happens quite often. With this feature, this will be a thing of the past as it helps briefers in marketing teams with not only sparking but also remembering ideas.



Default text

. This feature helps your team fill in the mental blanks and start their sentences. As a result, they?ll never be at a loss for words when it comes to compiling briefs.



Dropdowns, date pickers, and radio buttons

. These help your team to standardize your answers. One benefit of this is that your team always gets the information they need. Another is consistency, which helps you make your approval process much more streamlined.



Built-in deliverable manager

. With these features, you?ll always know and be able to keep track of what deliverables need to be created for a specific campaign.
By using these features and many others, you?ll significantly improve your briefing process. And once you?re done, teams can send complete briefs to the correct marketing managers, which no more sifting through multiple emails just to stay on track. Simply put, with Admation, the planning stage of your workflow, which lays the foundation for its future success, is simplified and streamlined.
Design: Approval Workflow
The approval stage is often where the most delays happen. Just think about it, with so many stakeholders to manage during the review, approval, and feedback process, mixed, conflicting, and even missing feedback is often responsible for holding up a digital marketing team?s progress on a project.
Admation?s software for digital marketing that features concise approval workflows eliminates this which, in turn, increases organization, efficiency, and productivity. In simple terms, Admation?s approval workflow is at the forefront of digital mark-up and online approval platforms, and allows you to:
Map out

the approval workflow with automatic email reminders for stakeholders. This ensures that the right people get the assets or collateral at the right time which, in turn, means your process won?t be slowed down by late reviews.
Compare current and previous

versions of work. As a result, everyone on your team knows exactly what feedback was incorporated into the work, what changes were made, and what needs to be done.




Tag users in comments

which allows your team to collaborate better. And when they?re able to do this, they?ll be much more efficient.
Keep track of revisions

with clear revision counters and daily or weekly revision reporting. In this way, you?ll be able to eliminate duplicate revisions which, ultimately, saves you time and money.
Download feedback reports

to provide concise change requests to external agencies. A major challenge you?ll encounter often is managing feedback and revisions when you use external agencies or stakeholders. This feature makes it easier to provide and manage this feedback which ensures greater efficiency.



Provide clear ticks of approval or change requests

with traffic-light color-coded statuses for your approvals. That means no more guessing what has been approved and what approvals are still outstanding.
Execution: Resource Management
A vital component of managing digital marketing projects effectively is resource management. So, in simple terms, it?s crucial that you know who?s doing what and who?s available to take on other tasks.
Here, Admation shines. Its digital marketing software provides you with a built-in resource manager and task tracker which gives you full visibility over your team and its responsibilities. It does this by providing you with a marketing-calendar-style Gantt chart that lists all the members of your team. This feature gives you:
Custom task types

that you?re able to customize to the types of work your team does. This enables you to see exactly what your team is busy with and what still needs to be done.
Capacity viewer

so that you can get insights into who on your team is busy, who?s underworked, and who?s working at capacity. This then enables you to plan better and ensure that your team is as productive as possible.
Time tracking

that allows you to see how much time is spent on every task. This enables you to see where your projects are hitting snags and implement to necessary strategies to make sure your projects keep moving forward.



Department

view

that allows you to split your visibility across your design and marketing teams. So, if there?s a delay, you?ll be able to pinpoint exactly who?s responsible for it.


Storage & Review: Digital Asset Management
When your team works with multiple digital assets, it?s vital that you have the necessary systems in place that will enable them to store and share these assets effortlessly. Also, data security is becoming increasingly important, so, apart from storing and sharing assets, you?ll also need to ensure that they?re kept securely.
Admation?s digital asset management modules let you do this. Besides ensuring security, it also allows you to keep track of all approved work and create a digital gallery for all in-market assets. Here, your team will have the ability to:
Keep track of an asset?s download history

so that you know exactly who has access to your assets and when they access them. This gives you a clear audit trail relating to your digital assets.
Re-run assets for future campaigns

that allows you to re-run campaigns or re-use assets quickly and easily. In turn, this allows you to fast-track your project setup for future projects.



Restrict access to files

with access controls and usage restrictions. In this way, you?ll limit the number of people handling the assets and be able to further enhance your security.



Share and transcode files

quickly and easily. As a result, you?ll eliminate email and other less-than-optimal tools for sharing assets. Also, with its built-in transcoding functionality, you can convert images to any size and format.



Campaign Reporting: Custom reports
It?s simple, when you don?t measure something, you won?t be able to improve it. So, when you?re able to measure your team?s performance across campaigns, you?ll be able to implement the necessary measures and strategies to improve it.
Admation?s software for digital marketing allows you to do this. As a result, at the end of a digital marketing campaign, you?ll be able to review the different elements of the campaign. With the custom reports you?ll get, you?ll then be able to review metrics across the project lifecycle and get deeper insights into your team?s performance. These custom reports include:
Number of active projects

. As the name implies, this report shows how many projects your team is busy with. In turn, you?ll be in the perfect position to gauge their capacity.
Average revisions per deliverable

. Let?s face it, revisions slow down a project, so you?ll want to limit excessive revisions as far as possible. As a result, this is a key metric that will not only give a baseline but also show you how effective your workflow is at eliminating these.



Average time taken to review work

. Like revisions, excessive reviews can slow your projects down. So, this metric shows you how long it actually takes for every review. From there you can then do the necessary to improve.



Time taken from brief to project finalization

. Here, you?ll see how long your team works on every project. If too long, you can then take steps to make your process more efficient or your team more productive.



Time estimated versus time taken to complete tasks

. When comparing the time it takes to complete a project compared how long you planned it would take, it gives you insights into how well your planning aligns with your team?s actual work and how efficient your workflow is.



The Bottom Line
The COVID-19 pandemic has resulted in evolving consumer expectations and an increased shift to digital marketing despite marketing budgets plummeting. So, this involves new strategies and increased demands on digital marketing teams to create engaging content to not only stay relevant but reach their audience. In short, digital marketing teams are now working harder than ever.
It?s, therefore, vital that marketing teams be as efficient and productive as possible. In turn, this requires the right tools. Here, Admation fits the bill perfectly. It gives them all the tools they need to streamline their approvals and processes and allows them to stay on top of their game.
Hopefully, this post helped illustrate some of Admation?s features in more detail and how they can help your team. To find out more about the platform and its features, visit our website for more information or to schedule a demo.